Fireplaces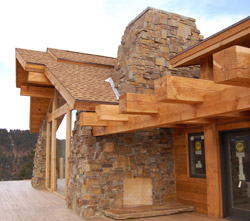 Fire has been used from the earliest days of mankind to warm the food, body and heart of man. Over the centuries it evolved from the basic fire ring to the more modern fireplaces and heaters.
The fireplace has seen many design changes through time. In 1678 Prince Rupert raised the grate for improved airflow. In the 18th century Benjamin Franklin developed the convection chamber, around this same time Count Rumford redesigned the firebox to be taller, with sharper angled sides and a straight back. This design improved the smoke draw and greatly increased the radiant heat projection into the room.
Masonry heaters came into existence in Europe during this period. They are designed to be lit twice a day with an extremely hot fire. This intense heat combusts most of the gases in the smoke as well, creating a very efficient heat source. The heat is stored in the masonry and radiated for up to 12 hours.
Each style and type of fireplace has distinct advantages and disadvantages. Our goal is to understand your needs and desired ambient effect on your home or business. How often do you plan to burn? Heat gain desired? Is this for ambience only or do you need the heat also? Will it be a Rumford Fireplace, standard masonry fireplace,
Accucraft
style, metal fireplace, wood stove, masonry heater, gas or electric fireplace? Your answers will help us recommend one of your many options.
Call us at
605-892-0150
for more information.
---
Rapid City, Spearfish, Deadwood, Sturgis, Belle Fourche, Hulett, Devils Tower, and Sundance.
Local Suppliers: